No Empty Sky, the latest collaboration from electric mandolinist Kona Lowell, represents a return to the more thoughtful songs that defined his earlier writing, and while hardly what would b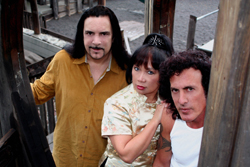 e considered "Hawaiian music," the sometimes tranquil, sometimes violent and always present ocean that encircles his Big Island home finds its way into many of these songs and is an unavoidable, powerful influence. And as far as we can tell, this CD contains the only progressive rock song ever written about Hawaii: Yellow Bird (Hawaii Nei).

Joined by Taiwanese-born percussionist/vocalist Chee and Native American (Blackfeet) drummer Jim Summey, No Empty Sky's Empire recalls a time in modern music when words were important, creativity an asset and music was not easily pigeon-holed. The very personal songs on this CD span a wide range of styles while the lyrics tackle topics as varied as socio-political issues, soul-deep emotions of loss and joy as well as spiritual hunger and the painful, inevitable corruption of religion.

Also generously sharing their talent for this project are James Vicari, who provided additional keyboards on Yellow Bird (Hawaii Nei) and Andy Rising who contributed cello to the title song, Empire.

Fun Factoid: Most listeners to No Empty Sky will be surprised to learn that what sounds like an electric guitar is actually an electric mandolin. There is no guitar on this CD.

We hope you enjoy this CD as much as No Empty Sky did recording it. Maluhia a me aloha kakou.

Kona Lowell
4 string electric mandolins (standard and octave), bass, flute, keyboards, vocals
Chee
Vibraphone, marimba, hand percussion, vocals
Top left photo by WK Luck © 2008
Bottom left and middle photos by Brian Davis © 2008.
Bottom right photo by Chee © 2008